One Man Star Wars Trilogy



One Man Star Wars Trilogy performed with permission of Lucasfilm Ltd. All "Star Wars"
elements property of Lucasfilm Ltd. All rights reserve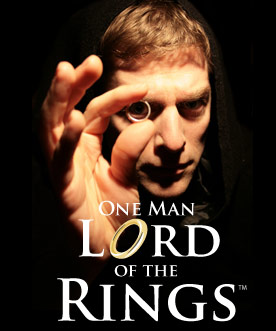 One Man Lord of the Rings

"Like many Lord of the Rings fans, Canadian actor, playwright and self-proclaimed 'professional geek', Charles Ross fell in love with Tolkein's trilogy at an early age. When it was announced that Peter Jackson would adapt the stories for film, he was again among many who felt excitement and worry about the film (would he screw it up? would someone stupid play Gandalf?) Thankfully no, and no."

Based on the literature of J.R.R. Tolkien and produced with permission of The Saul Zaentz Company d/b/a Middle-earth Enterprises f/k/a Tolkien Enterprises, Berkley, CA. "The Lord of the Rings," "The Fellowship of the Ring," "The Two Towers," are trademarks or registered trademarks of The Saul Zaentz Company d/b/a Middle-earth Enterprises.

Girls Night, The Musical
A touching and hilarious 'tell-it-like-it-is' look at the lives of a group of female friends, GIRLS NIGHT: THE MUSICAL promises to have audiences around the country laughing, crying and dancing in the aisles! Follow five friends as they re-live their past, celebrate their present and look to the future on a wild and hilarious karaoke night out ... and you'll recognize every one of them! Carol who was born to party, blunt Anita who says it like it is, Liza and her 'issues', boring Kate the great designated driver and Sharon, the not-so-angelic angel who just couldn't resist tagging along! GIRLS NIGHT is bursting with energy and is packed with hits Lady Marmalade, It's Raining Men, Man, I Feel Like a Woman, I Will Survive, We are family and many more! So Grab the girls and get ready to party.
I am currently playing Anita at the Geva Theatre Center in Rochester NY. The show will be running until August 13th. For a recent review click HERE.
For more inforamtion and tickets click here
On The Shoulders of Giants follows the journey of a young girl named Tricia. Living in the year 2056, she struggles with social prejudices and finds herself denied the chance to play "super heroes" with her friend, because she is a girl. Depressed and wishing she could become a real super hero and win the approval of her friends, she goes to visit her eighty-year-old grandfather. Tricia's grandfather is an ecentric old scientist and inventor. Played by a lovable life size puppet, Grandpa takes Tricia on a great adventure, introducing her to some of the least-sung heroes of the past; scientists. Each scientist comes with a unique message and a common message. Tricia learns that if a super hero is defined as one who saves lives and makes the world a better place; then scientists, are among the real heroes of the world. And most important, she learns that regardless of her gender, she too can save lives and make the world a better place. She too can be a real super hero, a scientist. As the story unfolds the audience learns important lessons about history, science, and achieving their dreams. This 50 minute original play is filled with surprises, fun audience participation, puppetry, comedy, juggling, magic, and of course, it's all about science!
This show is currently being turned into a pilot as a children'd telivision show. You can check it out on it's website at www.BornInTheCorn.com